We have a range of pupil ambassadors that ​support in the promotion of British Values, SMSC, and Rights Respecting Behaviour for all children in school. 
Many of these Ambassadors have been specifically trained with knowledge and skills to support their peers in a range of ways, including in their learning, and in their health and wellbeing.
​Click the links below to find out more.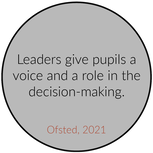 Rights Respecting School

Convention on the Rights of the Child

12 – Respect for children's views

13 – Sharing thoughts freely

14 – Freedom of thought and religion

15 – Setting up or joining groups

16 – Protection of privacy

17 – Access to Information