Uniform is worn at Bantock Primary to develop a sense of pride in being a member of the Bantock community. The advantages of a school uniform gives all the children the same standard of dress and are on a visibly equal footing. Clothing must not have any logo other than the Bantock Primary School Logo. All items may be purchased at High Street retailers apart from the school tie, logo sweatshirt, school bag and PE bag, which can be purchased from Trutex shop.
 Uniform
Required: Bantock Primary logo V neck sweatshirt/cardigan. Grey long trousers, skirt or pinafore dress. White shirt.  Bantock Primary School Tie. Black sensible school shoes (not trainers) Grey/black socks or tights. Black or grey headscarves or turbans
Optional: School book bag with the logo, or School Backpack with the logo.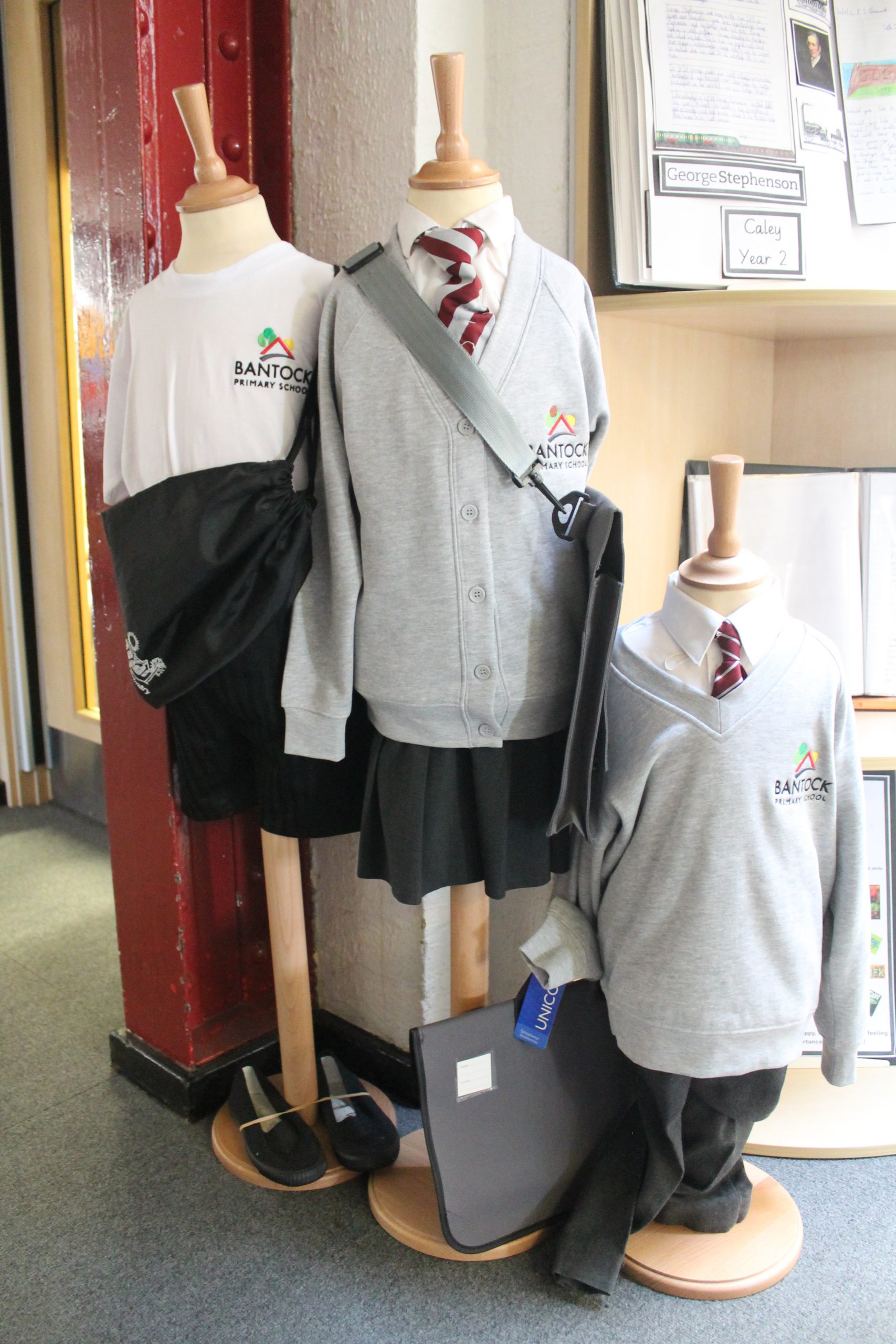 Summer Uniform 
Grey shorts and white short sleeved shirt
Maroon and white gingham dress and white socks/tights
​Sports Uniform 
White round necked school T-shirt.
​Black school PE shorts.
Sports Winter Outdoor Uniform
Black school jogging bottoms . Black school fleece. Black trainers for outside School PE bag with logo. ` Please put your child's name in their school uniform to reduce the risk of lost items. Items of clothing are regularly misplaced and are kept in the lost property box in the main office.
Hairstyling 
All shoulder length/long hair must be tied back using a black, white or maroon hair band, scrunchie or bobble. Hair should not be shaved below grade 2 and we request that patterns are not shaved into the head as this is inappropriate for school.
Jewellery
For safety jewellery must not be worn to school. If your child has pierced ears, ensure only small studs are worn, otherwise they must be removed for Physical Education. Children who wear watches must take full responsibility for them.
Where can I buy Bantock School Uniform?
You can purchase Bantock School Uniform with logos from Crested School Wear Wolverhampton.
​
This can be found at:
Wulfrun Shopping Centre, Units 26/27, Wolverhampton WV1 3HG
Plain non-logo uniform (e.g. shirts, trousers) can be purchased for high street stores, supermarkets and second hand shops.
What if I am struggling to pay for uniform?
We have a limited amount of second hand uniform available if you cannot get uniform. Please contact the school if you need support.