What is Sports Premium?
The government provides funding for primary school sports. The funding is provided by the Departments for Education,  and will be provided directly to primary school Head teachers to spend on improving the quality of Physical Education, School Sport and Physical Activity (PESSPA) for all pupils. The funding can only be spent on PESSPA provision in schools to ensure that all pupils receive high quality physical education, regardless of their ability.
What is the purpose of Sports Premium?
All schools must use the sports premium to fund additional and sustainable improvements for provision of PESSPA, but there is freedom to choose how we do it. At Bantock Primary School we recognise the contribution of PESSPA to develop healthy, active lifestyles and enhance the well-being of all pupils. In addition, we believe that an innovative and varied PE curriculum and extra-curricular opportunities have a positive influence on the behaviour, attitude and academic achievement of all pupils.
What is our approach to spending the Sports Premium?
At Bantock Primary we provide all children with equal opportunities to participate in a broad and balanced curriculum that ensures all abilities are inspired and educated, strong relationships are nurtured, and children are happy to participate in new challenges with a strong emphasis on all pupils succeeding in sport. We aim to remove all barriers to achievement and make every child SHINE.
Any objectives that school find to be successful will then be implemented into the school's policies and procedure for the following years to sustain these improvements.
Sports Ambassadors
​At Bantock, our Sports Ambassadors promote their love of physical activity  and aim to get everyone involved in lunchtime activity.  They deliver a range of engaging activities, whilst developing their leadership skills, organisation and confidence. As well as helping out at lunchtimes, the Sports Ambassadors deliver after-school clubs, which target pupils who are less keen to engage in sport and exercise. This helps to boost their self-esteem and health and promote a life-long love of physical activity.
​​For more information about our PE and Sports Premium Spending click on the downloads below.
Download previous reports from sports matches that Bantock Primary have taken part in.
The Black Country Commitment Award for PE & School Sport 
As a result of the current Coronavirus pandemic, the School Games Mark at National level will not take place for the 2019/20 academic year.
School Games Organisers across the Black Country and Active Black Country have run their own version of the School Games Mark to award commitment towards the School Games, PE, Physical Activity, School Sport and also home learning during the Covid-19 School Closures.
​The Black Country Commitment Award for PE & School Sport allows schools to document and showcase the outstanding work that has already taken place throughout the 2019/20 academic year. 
We at Bantock Primary, are thrilled to announce that we have been awarded the EXCELLENT grade for our contribution to PE and school sport.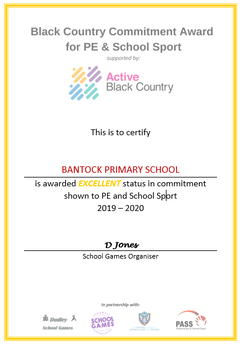 Swimming
At Bantock, Year 3 and Year 5 pupils attend weekly swimming lessons in order to meet National Curriculum requirements for swimming and water safety:
– 

swim competently, confidently and proficiently over a distance of at least 25 metres;

– 

use a range of strokes effectively;

– perform safe self-rescue in different water-based situations.

 

Rights Respecting School

Convention on the Rights of the Child

24 – Health, water, food, environment

26 – Social and economic help

27 -Food, clothing, a safe home

31 – Rest, play, culture, arts