School Meals and Snacks
Our kitchen on the school site provides school meals which are nutritionally balanced. The children can also choose to have packed lunches if they so wish, but these do need to be healthy and must not include sweets, chocolate, or any fizzy drinks/highly coloured drinks in cans, or glass bottles, as we are a Healthy School.
 
Dinner money must be paid in advance and this can be via cash or cheque. Money brought into school should always be in a clearly named envelope indicating the reason for payment. ​Dinner money is collected on Monday mornings. Parents who think they may be entitled to free school meals should complete the appropriate form at the Civic Centre. At present children entitled to free meals may also have free milk. Children of parents on income support may be entitled to a free meal. Please contact the school office, or Wolverhampton City Council for further information on this.
School meals are provided by Aspens. To find out more, please visit our School Meals page.
Fruit, milk and water
Fruit is available to all children. This is provided free for nursery, reception and infant children by the government. School provides free fruit for junior children. 
Wolverhampton Local Authority subsidise the provision of school milk. Milk is provided free to children under the age of 5 and for children entitled for free school meals. Milk money is collected in the first week of each term. 
It is important that children have access to water. Filtered drinking water taps are accessible in each classroom. Water bottles are available from school at a cost of £1. 
 
Cooking in the Curriculum and Cooking Club
Cooking classes are included as part of the school curriculum with some lessons focusing on healthy eating. This takes part in the state of the art, purpose build kitchen for pupils to access. Healthy eating is discussed in all year groups and appears across different areas of the curriculum.
For a term each year, some pupils will also be able to take part in an after school cooking club, with a focus on healthy eating.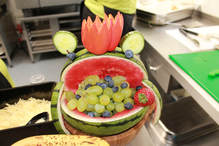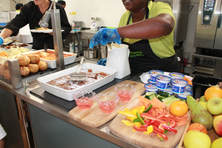 Rights Respecting School

Convention on the Rights of the Child

24 – Health, water, food, environment

27 – Food, clothing, a safe home