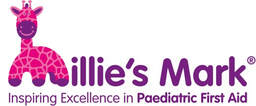 ​Bantock Primary School has achieved Millie's Mark accreditation for the Early Years setting. This means that all staff working with Early Years pupils are Paediatric First Aid trained and know what to do in a paediatric first aid situation. It acknowledge that children's safety is at the forefront of the staff's mind when they are in the school's care. The mark ensures that staff in the Early Years setting keep their knowledge up to date to enable them to be confident, ready and capable.
Paediatric first aid is what is given to young people who have been hurt or suddenly taken ill. It is the steps that staff can take before the injured or ill person gets expert medical help. First aid can save a person's life, but more often it is help given in an everyday accident or illness.
To achieve this the school have gained training to meet the needs that 100% of staff are Paediatric First Aid trained. The school created an action plan and risk assessment, specific to Early Years health and safety and a member of the Millie's Mark team came into school to assess against the evidence.