Succeed Happy Inspire Nurture Educate
Mathematics is a creative and highly interconnected discipline that has been developed over centuries, providing the solution to some of history's most intriguing problems. It is essential to everyday life, critical to science, technology and engineering, and necessary for financial literacy and most forms of employment. A high-quality mathematics education therefore provides a foundation for understanding the world, the ability to reason mathematically, an appreciation of the beauty and power of mathematics, and a sense of enjoyment and curiosity about the subject.
National Curriculum 2014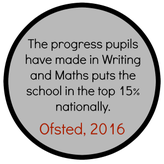 Succeed
To teach the essential skills of Mathematics and develop this to a high standard for all pupils, to enable all to succeed.
Happy
To promote a culture of enjoyment in the learning of Mathematics in which they can demonstrate their understanding with confidence.
Inspire
To provide a stimulating Mathematics curriculum that inspires life-long mathematicians and an understanding of 'real' Maths.
Nurture
To facilitate independent learning and progress across the curriculum.
Educate
To prepare pupils with the knowledge and understanding that is required for their current learning and for the next stage in their education.
At Bantock Primary School, it is our aim to provide all children with a high quality Mathematics education, to ensure that positive attitudes towards the subject are established, in order for children to make the best possible start in their journey to becoming confident mathematicians.  We want pupils to experience learning opportunities in which they are empowered with the ability to apply mathematical knowledge, concepts and procedures to their everyday lives; where their potential is maximised and they develop a sense of enjoyment and fascination in learning, about a wide range of mathematical concepts. At Bantock Primary School, pupils receive a curriculum built on logical progression, which enables them to acquire the intended knowledge and skills to become confident and successful, both in their school career and in the future, as they continue their journey into the wider world.
​
At Bantock Primary School our Mathematics curriculum is designed to equip pupils with the ability to reason logically, solve problems and think with flexibility in abstract ways. When teaching in school, we give our children a range of mathematical opportunities and cross-curricular experiences that help them to understand and appreciate how important Mathematics is as a life skill. This is done in a systematic way which uses up to date pedagogy and teaching techniques. At Bantock, we have incorporated The White Rose scheme, which is designed to break down the curriculum into manageable progressive steps with fluency, reasoning and problem solving fully integrated. This ensures that pupils are always given opportunities to apply their understanding in context. Each new concept is delivered using the CPA (Concrete, Pictorial, Abstract) model to ensure pupils' can build their understanding on concrete foundations. 

​The use of bar modelling as a visual structure, to support thinking when problem solving, is used to aid pupils' ability to track their thought processes and visualise a problem which otherwise remains abstract. In addition to this we recognise the importance of strong arithmetic skills and understand how good recall of multiplication and division facts underpin many different aspects of maths. Children are provided with daily opportunities to practise and demonstrate their increasing understanding through our Times Tables Club Tests which is enjoyed by children from Year 1 through to Year 6.
As a school, we place a high value on language across the curriculum, including the use of accurate mathematical vocabulary. Through our teaching, we ensure that pupils are equipped with the mathematical language that they need in order to think clearly, talk about problems and express their understanding with fluency.
It is our intent that when pupils leave Bantock, they leave with confidence and a sense of enjoyment for maths as well as a positive attitude, which allows them to see and unlock the wonder that maths holds.